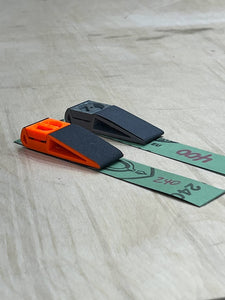 Sanding Blocks (240grit + 400grit)
Regular price
$6.00
$0.00
Unit price
per
These sanding blocks are perfect for refining all of your leather edges and corners. The 240 grit is a nice medium cutting grit that can remove material quickly, and the 400 grit does a wonderful job of finishing and smoothing to a wonderful edge ready to be burnished + finished. 
Sandpaper is easily unloaded with a quarter turn counter-clockwise, and locked with a quarter turn.
Sandpaper refill set (120, 240, 400, 600, 800, 1000, 1500, 2000 grit) x3pc each = 24pc total
Body colours are fulfilled at random, each "set" will include different colours so that you can differentiate grits. 
Sanding Block Single body includes 1 extra body without any sandpaper. Great for adding extra grits to your rotation without having to constantly load/unload.
Set Includes: 2 block bodies, 3x 240grit strips, 3x 400grit strips
Material: 3D Printed PETG body
Country of Origin:

 Canada, Sandpaper is from Germany
---