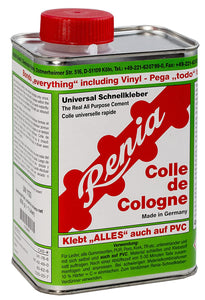 Renia Colle de Cologne Contact Cement Glue
Regular price
$36.00
$0.00
Unit price
per
Colle de Cologne is generally regarded as the defacto glue for extra strong bonds, and used almost entirely throughout the shoemaking industry. It is produced by Renia in Germany, and has all of the strength  of a solvent based glue like Barge, with more consistency and easier application/open time.
32oz (~1 Litre) can with brush attached to lid
Please use in a well ventilated areas as the solvents can be damaging to your health with long exposure. 

Made in Germany
---